Ploce (pron.: Ploch-eh)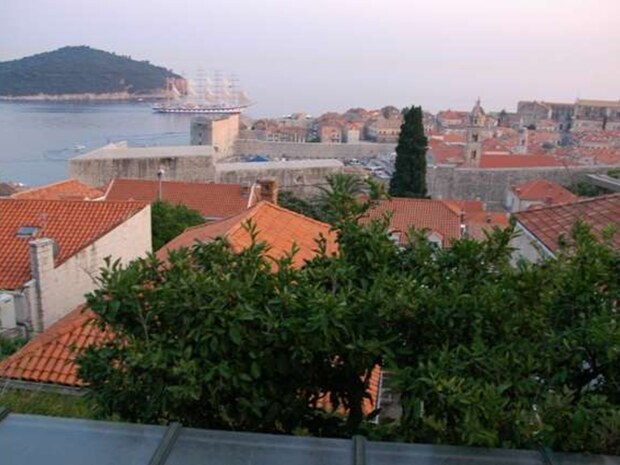 Elegant and at a quick walking distance (though uphill on return to accommodation), and with the most classic of views (see photo at left). Easy reach to the East West Beach Club, and the trendy Sv.Jakov beach.
Perched against the slope of Mt. Srd, Ploce affords the most classic of views of Dubrovnik Old Town. The neighborhoods can be surprisingly peaceful, despite the location , and walks along Frana Supila will always be dominated by the breath-taking views of the fortress of Sv.Ivan(St.John), and the Old Town Harbour. View above is the classic Ploce view. Photo shows typical view from Ploce hill.
Fitness levels: First-time visitors should note that this trendy district, which arguably offers the best views of the Old Town, generally will demand a good level of fitness and mobility. Many accommodation options will involve access down to the Old Town via several flights of steps. Cab access to the door of your accommodation may not be possible, but generally your driver will take you as close as possible. For this reason, your host will tend to agree to meet you at one of the nearby landmarks (eg: street front to the Excelsior Hotel on the Frane Supila, or "at the zicara" which isb the bus station by the old cable car terminal.).
If you have health, fitness, or mobility limitations or require the use of a car and parking, these would be most important considerations. Many Ploce properties will not include exclusive parking spaces. Visitors are advised to check before reserving according to your needs and restrictions. Supermarkets are present in this area, and in the Old Town the Gundulic Farmers Market operates daily attracting many tourists.