Dubrovnik by Road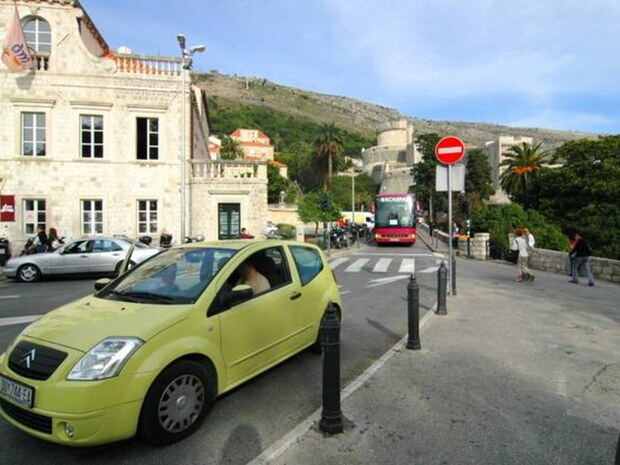 Driving in Croatia can be one of the most beautiful ways to discover the details and hidden tracks in this naturally-blessed country. From the outset, visitors should note that Croatians drive on the right side of the road, and zero-alcohol tolerance operates on all Croatian roads, and hefty fines are payable by offenders.
Headlights are required at all times, and again, fines can be incurred for ignoring this rule. Speed limits should be observed at all times: 50km/hr in cities; 90km.hr city outskirts; 110km/hr major roads; 130 km/hr on motorways. Fines range from 300-3000 hrk. Parking offences will also be fined, and the local "spider" service can become expensive if drivers do not respect residents boundaries, etc.. Mobile phone use whilst driving is not permitted, except with a hands-free set. Accidents or major theft from or of a vehicle are reportable via the "European Accident Report Form".
Summer time brings many thousands of extra visitors to the coast, including locals, and overseas visitors. August is especially noted for the surge in Italian guests holidaying on the coast, and many choose to take the ferry and their cars across for their visits, creating at times extra congestion on the highways. Construction continues on the adventurous road project connecting Rijeka and Dubrovnik, with links between Split and Dubrovnik expected to be complete in 2007. This will cut travel times considerably.
The very beauty of the coastal highway presents its major risk, given the distractibility by the stunning coastal views.
Important new parking advice:
The local council of Dubrovnik has placed parking restrictions from the month of April 2009, advising visitors staying in the Old Town vicinity to avail themselves of parking at the large new public car park by the entrance to the Old Town (situated at Ilijinoj glavica; charges**( advise readers to please check for updated prices ) are approx. 240 kunas daily, or 32-34 euro/daily). Parking is not permitted along the street of Branitelja Dubrovnik. It is expected that restriction will be beneficial in solving the long standing traffic-flow problems in the immediate Old own vicinity.
Useful emergency numbers:
A single countrywide number for all emergencies: 112
Police: 192
Ambulance: 194
Roadside assistance: dial 1987 (00385 1 987 from a foreign mobile phone)
See for great maps and driving routes around all of Europe, linking with Dubrovnik
Dubrovnik Road Map:
Excellent road map to help you navigate around the Old Town and districts.
Dubrovnik Car Hire:
A number of car rental agencies operate out of Dubrovnik, and can arrange for delivery, one-way drop-off, fully insured rentals. Great deals can usually be made at the airport on arrival, where many agencies have an outlet.
Braca d.o.o., EURO CAR rental, I. Vojnovića 31/a, Dubrovnik, Croatia
tel: +385 20 333-560
GSM: +385 98 324 649, +385 98 196 2136, +385 98 243-002
fax: +385 20 333-525
E-mail: [email protected]
Adria auto
N. Tesle 10,
tel: +385 20 356 181
fax: +385 20 428-372
Budget
Obala S. Radića 20
tel: +385 20 418 998
GSM: +385 20 91 201 4638
fax: +385 20 418 997
Dubrovnik Airport
tel: +385 20 773 588
fax: +385 20 773 589
F.Supila 5
tel. +385 20 425 000
fax.+385 20 425 111
Airport: tel. +385 20 771 568, fax. +385 20 425 111
Dubrovnik from Italy:
We get many enquiries about traveling between Dubrovnik and Venice, Bari, Rome, or other destinations in Italy. Click here for an excellent link and advice about these connections and options.